Activity Ratios Overview
Activity ratios analyse what a business is doing with its stock (or inventory), assets and debtors. They are important because they show how a business is performing on a daily basis. There are three activity ratios:
Stock Turnover or Inventory Turnover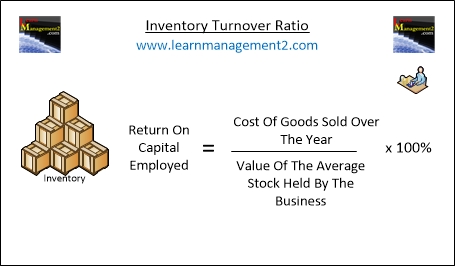 Inventory (Stock) Turnover Ratio
This ratio shows how many times a business replaces its stock over the year. The ideal ratio will depend on the type of business. A business selling fresh food will want to sell everything by the end of the day so an ideal ratio for that business is 365. However a car dealership will not expect to sell its entire car stock every day, the ideal stock turnover will depend on the structure and size of the dealership.
How Do You Calculate Inventory Turnover
The following formula is used to calculate stock turnover ratio:
Stock Turnover Ratio = Cost of Goods Sold (over the year)
____________________
Value of the average stock held by the business
The answer is expressed as number of times per year. If you are measuring over a different time period you would express your answer as the number of times per that time period e.g. if you were measuring over a month it would be number of times per month.