Team Roles
Meredith Belbin
Introduction
Following detailed studies of teams Dr. Meredith Belbin observed that when people are placed in teams, they behave in a particular manner. Some of these behaviours will help the team achieve its objectives and others will not. Belbin concluded that effective teams need their members to carry out nine roles. A team member can carry out more than one role. Belbin's nine team roles are: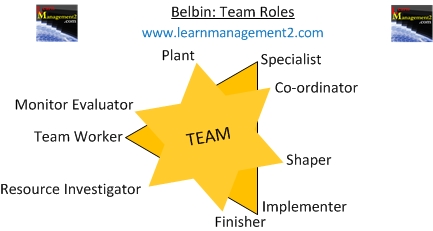 Co-Ordinator
The co-ordinator takes on the role of the chair person and team leader. They will step back and assess the overall situation. A co-ordinator effectively delegate tasks to team members. They are often good listeners and understand team members. A co-ordinator's weakness may be that they reduce their own work load by delegating too many tasks to others. Some co-ordinators can also be accused of being manipulative.
Shaper
A shaper motivates the team into achieving their objectives, they view obstacles as challenges. Another name for shaper is strategist because they are always on the hunt for solutions, refusing to give up when other team members may be ready to do so. A shaper wants the team to continuously improve and stops them from becoming complacent.
Plant
This person comes up with innovative ideas for the team, they will usually think outside accepted parameters and conventional ways to do things. Plants help teams innovate but too many plants in a team will stop the team staying on track as they tend to ignore constraints. Plants are often poor communicators who prefer to work alone.
Monitor Evaluator
Every team needs an analyst. The Monitor analyses the situation, weighing up the reasons for and against doing things. They are good at assessing without getting emotionally involved. A monitor can keep the team from making costly mistakes but they can also be guilty of destroying team enthusiasm and being overly critical of the team's ideas.