ISOs (International Organisation For Standardization)
Introduction
International standards known as ISOs are internationally recognised standards. They are developed and published by the International Organisation for Standardization. This organisation has members from 163 countries. Each country has one member who is responsible for coordinating national standards on behalf of their country. The system is coordinated by a Central Secretariat in Geneva, Switzerland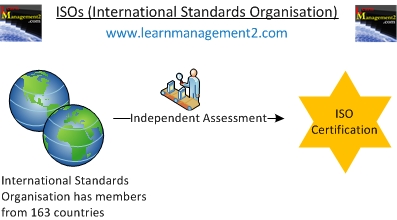 Why Do Firms Apply For ISO Certification
Organisations apply for ISO certification as they hope that it will enhance their reputation and business. ISOs standards are adopted by companies and organisations as successful certification indicates that the company has been independently assessed by an external body and certified as meeting a minimum set of stipulated standards.
Do ISOs Have Legal Authority?
ISO standards do not have any legal authority. The international standards organisation is not a government organisation. Instead the organisation states that it develops standards around market requirements.
Who Awards ISO Certification?
Certification is assessed by an external organisation that has been accredited by:
ANSI-ASQ National Accreditation Board in the USA,
The United Kingdom Accreditation Service in the UK, or
The National Accreditation Board in Ireland