Profitability Ratios
The primary aim of most businesses is to make money (profit) through sales. This is not as straight forward as it seems, firms can have lots of sales but not make a healthy profit. Larger businesses such as national retailers will aim to make profit from millions of sales whilst a local sole trader will aim for profit from hundreds of sales.
Profitability ratios show how good a business is at making profit compared to its size. They reveal how much money from each sale is profit and they can also reveal how much profit is made from the money invested in the business.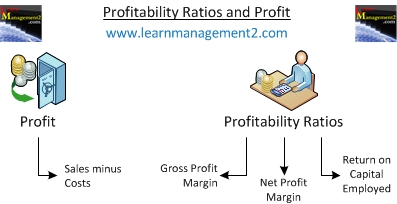 Are Profit and Profitability The Same Thing?
Do not confuse profit with profitability! They may sound similar but they are different things
What is Profit
Profit is the amount of money left over from sales after all costs have been deducted. A business can make profit but not be assessed as profitable. For example a sole trader business making £50000 profit a year would be judged as a profitable business. However if a supermarket chain with a global business such as Tesco PLC would not be classified as profitable if it only made £50000 profit a year, because as a large business with lots of resources you would expect them to make a lot more money.
What Is Profitability
Profitability assesses the strength of any profit made by the business by looking at the amount of effort and resources which were required to the profit. Profitability ratios compare the profit a business makes against the size of the business.