Succession Planning
Introduction
Employees don't stay with firms forever; they leave if their circumstances change or if they want a new challenge. Its important to think about what you will do if an employee leaves especially if they are carrying out a key or specialist role.
A plan detailing how to replace employees in the future is known as a Succession Plan.
The diagram below is an example succession plan and it details how you will develop employees so that they can take over from those who leave the company.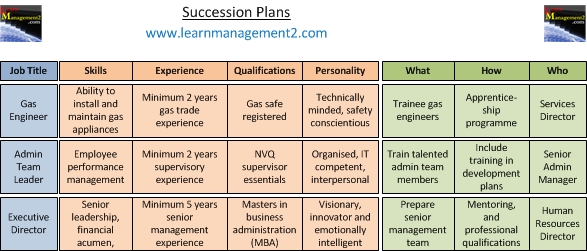 Why Succession Plan
Is there any value in succession planning? Surely employees can simply be replaced as and when they leave? Yes all firms need a succession plan, some employees will be easier to replace than others. If an employee's role requires a specialist skill, it may take time to train someone else to carry out the work competently. Similarly if the job role requires a person with personality traits that you can't instill in a person such as vision, innovation, ethos, emotional intelligence or specific ethical values it may take time to find the "right person". A succession plan will help you effectively manage employee departures by planning for the departure before it occurs.