Suppliers And Supplier Management
All businesses need suppliers to provide them with the things they need to run the business. It is difficult to run a business without suppliers because the business will be unable to generate everything it needs from scratch. Sometimes businesses will use suppliers because it is cheaper than producing the goods/service themselves.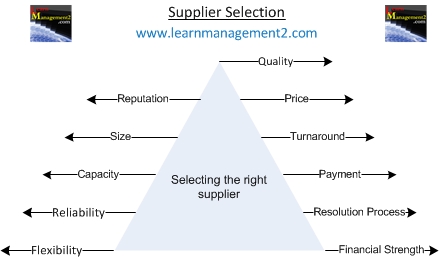 What Is A Supplier
A supplier is any entity that provides a business with the items they need to set up and manage their business. The items that a supplier provides depend on the business;
If the business is a manufacturer its suppliers will provide the raw materials required to manufacture goods
If the business is a retailer its suppliers will provide the products that the retailer sells
If the business is a trades person its suppliers will provide tools and items required to fix, install and replace items for householders and organisations.
Why Do You Need to Select the Right Supplier?
It is important to select suppliers carefully as suppliers can affect the businesses they provide goods to. If a supplier provides a poor quality product to a firm, it may affect the firm's reputation as the firm will need to use the goods or sell them onto their customers. Similarly if a supplier provides a slow or poor service, this may slow down the service the business provides to its customers.