Theory X and Y
Douglas McGregor
Introduction
Douglas McGregor suggested that organisations manage employees based on their view of what employees are like. He asserted that these view have two extremes, Theory X and Theory Y. It would be rare for a manager to fully view employees as either being X or Y, instead their opionion of employees is likely to be somewhere in the middle of the two extremes. So what is a Theory X view and what is a Theory Y view?
The Diagram below summarises the difference between McGregor's Theory X and Theory Y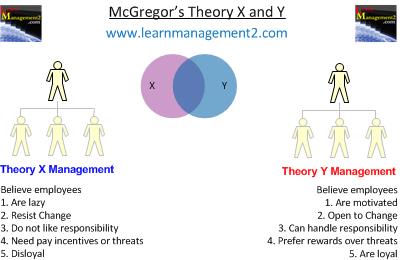 Theory X
Theory X organisations hold a negative view of employees, they believe employees:
Are lazy and work out of need, not choice
Resist change
Do not like responsibility and prefer work instructions
Are not motivated by work alone, they need pay incentives or threats
Require control and punitive measures to prevent misconduct
Are not loyal and do not care about their employer
A manager with a theory X view will therefore attempt to coerce employees into work through control and punishment.