Franchise Businesses
Introduction
A Franchise is an organisation licensed to use branding belonging to another entity so that the business looks like it is part of the other organisation. The Franchise owner will pay the owner of the other business, money to sell the owner's products and money to use its branding.
The person selling the idea is known as the Franchisor and the person purchasing the right to use the business idea (and/or trade under the name of another organisation) is known as the Franchisee.
The diagram below demonstrates the variety and type of businesses offering Franchise opportunities throughout the world.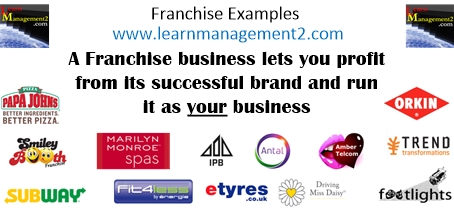 What Type of Businesses Offer Franchises?
A large variety of business types offer franchises including:
Restaurants/Food Outlets
Gyms and Fitness Organisations
Business Consulting
Automotive
Children's Services
Care
Cleaning Firms
Photography
Recruitment
Internet Based Businesses
Education
Pest Control
In fact with the appropriate advice and business structure you could probably turn any type of successful business into a business offering franchises.
How Does A Franchise Arrangement Work
The firm offering a franchise business will sign a contract with people wanting to open a business under the business name belonging to the franchise owner. The contract will stipulate the terms and conditions that the franchisee must follow. The franchisee will usually pay a lump sum (investment) of money to the Franchisor at the start of the contract and will pay an ongoing percentage (or royalties) from the business. In return the Franchisor will provide the Franchisee with training, business advice, right to use business branding, marketing materials, business equipment and business products.
Under the Franchise agreement the Franchiser continues to own the parent company, company assets and the company's intellectual property such as trademarks, patents and copyright. The Franchiser is merely granting the Franchisee a license to sell the company's products and services through a business using the parent company's branding.
Franchise Example
A good Franchise example is McDonald's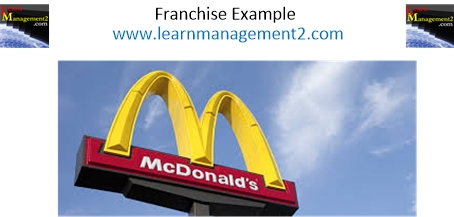 McDonald's plc is a business that will allow others to use their trading name for a fee. The contract stipulates that the business owner must use McDonald's shop fittings, equipment and food products. As McDonalds is an international brand, familiar to many throughout the world, McDonalds is a business traders feel confident about using for their Franchise business.