Principles Of Management
Henri Fayol
Fayol's Principles Of Management
Now that we've examined Fayol's Functions of Management let's look at Fayol's Principles of Management which support managers in completing the five functions.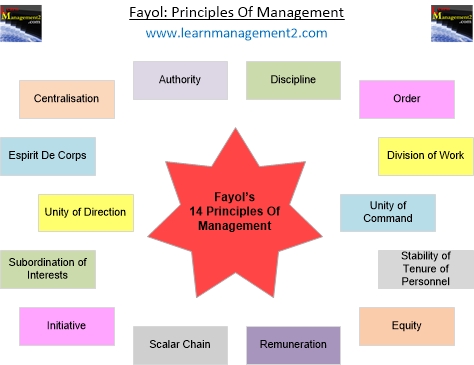 Division of Work
Managers need to divide the work amongst their teams and the individuals in each team; dividing different types of work amongst individuals will provide each with the opportunity to specialise in a particular area of work. Fayol believed that specialist (expert) skill will increase efficiency productivity and output.
Authority
Managers need to have the authority (and with it responsibility) to command their teams. When managers have teams reporting to them they are usually responsible for the team's performance.
Discipline
Teams need to have the discipline to complete their tasks and they need to follow organisation rules. This includes accepting the authority of their managers and upholding the chain of command.
Unity of Command
This means that only one person should be commanding the organisation: everybody else's instructions to others should support those commands. It also means each person should have one supervisor commanding them.
Unity of Direction
The overall aims and objectives for everybody in the organisation should be the same. If the aims are split for example into departmental aims everybody in the department should be working towards achieving the departmental plan.
Subordination of individual interests to general interests
Organisational interests are more important than the interests of one person; this includes managers as well as workers.
Remuneration
A worker's rate of pay for the work (or services) they provide should be fair especially as pay and benefits are usually high in the list things motivating employees.