Kaizen
Introduction
Kaizen is a Japanese word which means continuous improvement. Under this model it is believed that ongoing small changes will help the organisation to continuously progress or as some commentators have said "evolve". As they are small changes they can apply to all areas of the business. Under Kaizen theory there is no limit to continuous improvement, so the improvement process will never end.
The Kaizen diagram below illustrates how a series of small changes can make a big impact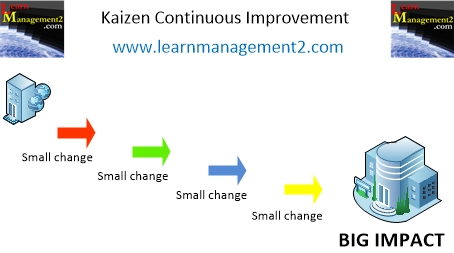 Anyone And Everyone
Under Kaizen theory all employees at all levels can come up with a change. It is believed that changes suggested by the people involved in the processes (that the changes are about) are going to be more effective. This is because such people have first hand experience of the process, they are aware of problems and their impact; they may even be involved in previous changes that were not effective. Kaizen theory values employees and invests in them.