Maslow's Hierarchy Of Needs
Introduction
Abraham Maslow a US psychologist, developed the well known 'Hierarchy of needs' motivation theory. Under this theory Maslow suggests that everybody has a series of needs and these needs can be organised into a hierarchy of priority. Maslow also stated that if you want to motivate an individual you will need to know which of their needs have been satisfied. Once you have this information, you can decide which need has to be satisfied in order to motivate your subject.
The diagram below illustrates the five needs in Maslow's Hierarchy of Needs in the order of priority designated by Maslow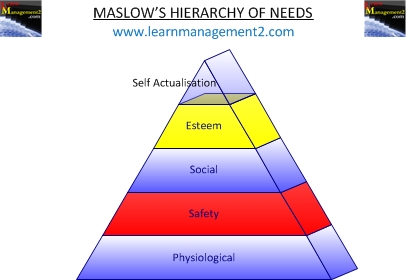 Hierarchical Levels
Maslow divided employee needs into five needs;
Physiological needs
Safety needs
Social needs
Esteem needs and
Self actualisation needs
Maslow assessed the priority of each need to employees and placed them in a hierarchy based in the order that each need should be satisfied.
Why Are Maslow's Hierarchy Of Needs Called A Hierarchy
Maslow asserts that needs at the bottom of the hierarchy must be met first; a person is unable to focus on the higher levels needs until the bottom level needs have been satisfied. For example until an individual's physiological needs have been met, they will be unable to move onto safety needs, once safety needs have been met the individual can move onto social needs and so on. Under this theory Maslow states that as people continuously strive for personal achievement, the need for self actualisation is ongoing and will never be satisfied.