Mindfulness - The Benefits For Organisations
Mindfulness - The Benefits
Introduction
 The UK's health service (the NHS) define mindfulness as 'Paying more attention to the present moment – to your own thoughts and feelings, and to the world around you – can improve your mental wellbeing.'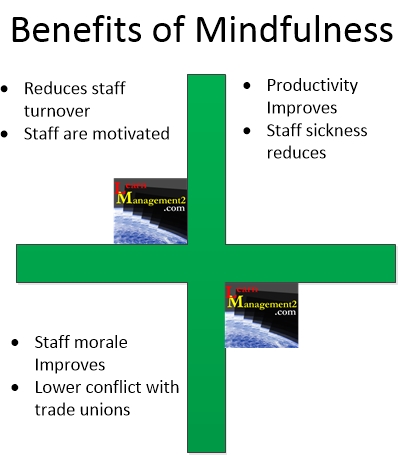 Mindfulness And The Benefits To The Organisation
Organisations can enjoy a number of benefits from implementing mindfulness including:
Reduced staff turnover - If staff are focused on the present moment and are happy with their working environment then they are unlikely to leave the organisation.
Improves productivity - Focused and happy staff will lead to increased productivity benefit the organisation.
Reduces staff sicknesses - Staff that are mentally  happy and whose well being is being looked after are likely to be healthy and have a reduced number of sick days.
Improves team morale - Happy staff equals happy teams and happy teams means increased productivity.
Less likely to have conflicts with trade unions -Staff are less likely to have conflicts at all levels if their mental well being is being looked after.