Crisis Management
A crisis is defined as a "time of intense difficulty or danger". A major crisis can affect the survival of a firm, a business must protect itself from any crisis which could affect business reputation and sales.
The diagram below outlines the steps involved in managing a crisis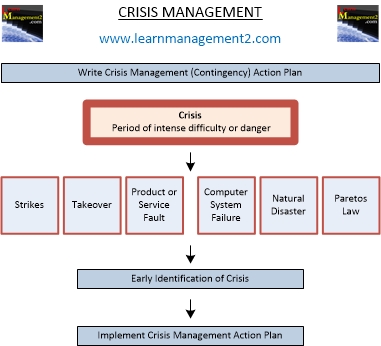 As illustrated in the crisis management diagram above a crisis can come in many forms, we talk through six examples of a crisis which a business may face.
Crisis: Computer System Failure
The majority of businesses rely heavily on computer systems, so if there is a problem with a firm's computer system it will have a detrimental effect. A quick internet search will reveal a large number of companies affected by computer system failures. A computer system failure can include third parties attempting to hack into the firm's computer system to steal data or sabotage the business. A computer system breakdown is likely to:
result in lost sales as the firm will find it difficult to process transactions during the failure
affect business reputation
affect future business if the failure results in the media and consumers questioning the security and reliability of the firm's computer systems.
A computer system failure needs to be resolved very quickly or at the very least, the firm needs to have a contingency plan to minimise losses during the computer system failure.
Crisis: Product or Service fault
If a product is faulty and if this product puts customers at harm, then the firm must take action to deal with the danger. In 2010 Toyota recalled millions of cars worldwide after discovering faulty brakes on a number of their vehicles. Massive recall rates and fixing the problem are now helping the firm with rebuilding their brand.
Crisis: Strikes
Strikes can bring a company to a standstill and have a major impact on profitability. British Airways settled dispute with their cabin union after major strikes over busy periods crippled the airlines capabilities during 2010 and 2011.
Crisis: Natural Disasters
The massive earthquake in Japan in April 2011 resulted in many firm's production capabilities being destroyed. As a result of this, many car manufacturers ran short of supplies or had lengthy waits for new supplies. This can have a serious impact on profitability and business reputation. BP's oil spill in April 2010 in the Gulf of Mexico had a major impact on the image of the firm culminating in the US President, President Obama commenting on BP's handling of the affair. This resulted in people at top level losing their jobs