Change Management
An effectively managed change will lead to a variety of benefits for organisations including;
Efficient use of resources
Cost savings
Change delivered within time scales
Staff that are not unhappy, uncomfortable, and/or anxious
Change management is about effectively managing change so that all of the parties it affects, are comfortable through each stage of the transition and at the end of the process.

The diagram below shows the four stages in Kurt Lewin's Planned Change Theory, frozen, unfreeze, transition and refreeze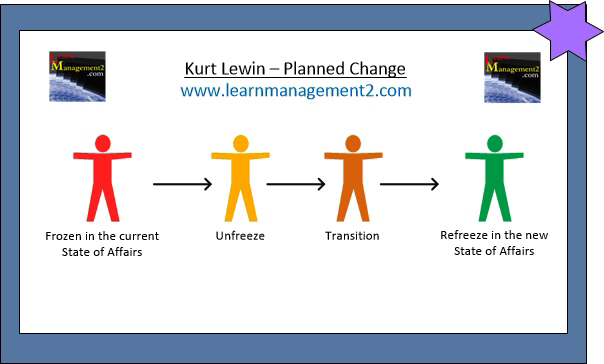 Types Of Change
There are many types of change, Ackerman Development, Transition or transformation; the question of change in organisations (1997)) categorised change as one of three types:
1. Developmental Change

This encompasses change that is either, planned, emergent (unplanned) or incremental (continual). It is usually change that will correct failings in existing procedures or enhance existing procedures. Continuous change often responds to the changes in the environment in which the organisation operates e.g. staff turnover.

2. Transitional Change

This is change where the organisation aims to achieve a set goal so this type of change is planned, episodic and radical. Episodic change is change that occurs infrequently, usually involves substituting an existing program or plan with a new one and is a change that is intended by it's implementers or the organisation's decision makers. Often it will not fit into existing or new strategy, in other words it is discontinuous.

3. Transformational Change

This will lead to an organisation that is very different to the organisation that existed prior to the change. As the change is very radical the organisation and it's employees will need to radically change their views, strategy and assumptions. Such change can alter an organisation's culture, ethos and systems.